About us
PRINTOPACK SA is a family company, established in 1970, specializing in graphic arts carton packaging, integrating offset printing services.
PRINTOPACK SA owns a vertically integrated production line, ensuring high quality of the produced goods, such as:
\ Packaging and P.O.P. materials
\ Individual packaging
\ Promo packaging
\ Rigid boxes
\ Special constructions
Actively participating in the product design stage, the company is involved throughout the whole design and product creation cycle, utilizing its long term experience, extensive knowhow and updated machinery equipment, meeting all customer needs and specifications.
PRINTOPACK SA employs specialized professionals, while their knowledge and expertise ensure the highest possible quality for products and services, as well as the ability to consistently meet product delivery times.
PRINTOPACK SA is committed to satisfying its customers' needs, maintaining long term collaborations with outstanding local and global suppliers and partners, certified according to ISO 9001:2015 Quality Management System and ISO 14001:2015 Environmental Management System standards.
PRINTOPACK SA is located in Kamatero Attikis, Greece, in a wholly owned plant, covering an area of 3.500 sqm.
Delivery of the products is carried out by our own trucks.
Corporate Responsibility
Our company, fully committed to updating its internal corporate procedures, and to constantly monitoring the quality of its final products, is certified according to the ISO 9001:2015 Quality Management System.
Our corporate philosophy of preserving the natural environment, and its valuable resources, has led our company to adopting very strict environmental rules, throughout its production process, and therefore getting certified according to the ISO 14001:2015 Environmental Management System.
Our Corporate Philosophy
In an effort to satisfy its customers' needs, throughout all these years, PRINTOPACK SA is fully committed to its core values; quality, consistency, adaptability, customer-friendliness.
This is how our company has managed to nurture long term co-operations and synergies, throughout the years, and to further develop the profile of a company that customers can trust.
Our vision is to constantly develop the quality of the offered products and services, so that customers can identify PRINTOPACK SA as their trustworthy partner.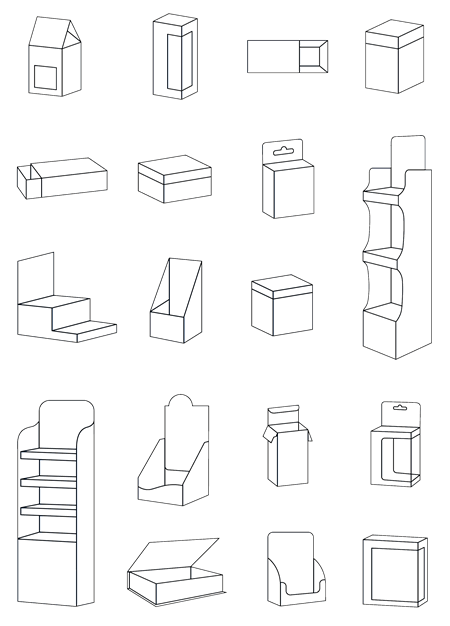 Production Capabilities
\ Product Design & Development
\ Plotter-produced final samples
\ Offset printing
\ Lamination onto compact and corrugated cardboard
\ Flat/Upright cutting machines
\ Automated carton folding gluing
\ Automated heat soldering of ultra large boxes
\ Automated Rigid Box production
\ Folding machinery
\ Puzzle cutting special machinery
\ Flow pack machinery
\ Handmade Stand and Special Constructions mounting
\ Re-packaging
We stand out because …